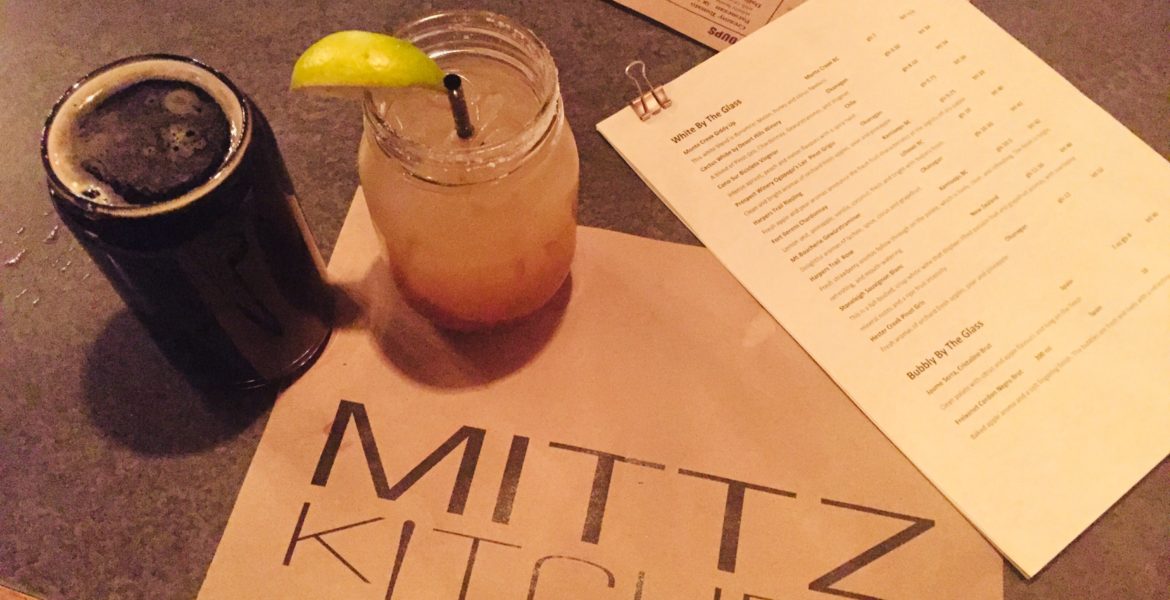 Restaurant Information
Restaurant: Mittz Kitchen
Address: 227 Victoria St, Kamloops, BC
Phone Number: 778-471-5050
Website: http://mittzkitchen.com/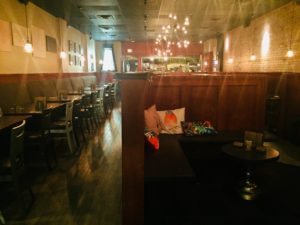 During a recent work trip travelling with fellow Cobra Chomp writer Ashley in Kamloops, we made a visit to Mittz Kitchen for dinner. It is a cozy delightful kitchen restaurant in the core of downtown Kamloops, BC with a good selection of vegetarian dishes and cultural food fares.
Two Kamloops brothers Jeff and Steve Mitton own and run Mittz Kitchen. Mittz Kitchen is the heart and soul of their combined 54 years of experiences in the hospitality industry. Together with Chef Dave Rempel, Mittz Kitchen delivers global favorite dishes using the freshest finest ingredients that local growers has to offer.
Drinks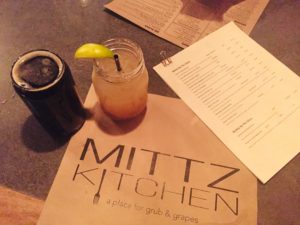 A celebration drink is always the best way to start off a dinner. Ashley chose the Mittz Kitchen Monday special Ginger Beer Margarita, while I went with my favorite category of beer, a stout from Kettle River Brewing Co.
Appetizers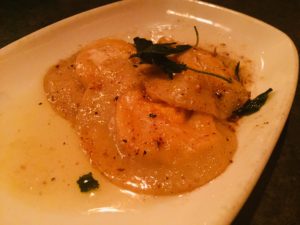 For starters we ordered a couple of appetizers. The butternut ravioli was filled with butternut squash paste, Italian mascarpone cheese, pan cooked with hazelnut brown butter and garnished with crispy sage. The cheese is a great pairing with the squash stuffed in the ravioli, giving it an enhanced smooth texture.
The crispy fried buffalo cauliflower was lightly coated and tossed with red hot buffalo sauce. It was served with house made chunky blue cheese dressing on the side. Boy oh did they packed the heat in the cauliflower! Not too spicy but certainly a game player for those who are looking for a stronger flavor appetizer with a good twist of ingredients pairing.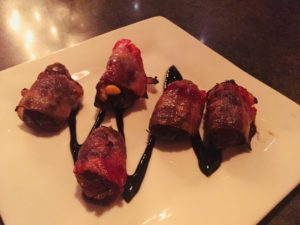 The bacon wrapped dates dish was sweet dates wrapped in crisp smoked bacon drizzled with balsamic reduction. This is my first time trying this dish. When Ashley told me it was a popular starter dish I just could not believe I have never had it. I am in love with it now that I had tried it. The combination of salty, crispy bacon with sugar-sweet dates and the sweet-sourness of the balsamic reduction is absolutely irresistible.
Main Courses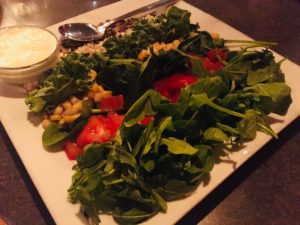 For our main courses, Ashley ordered a Mittz Kitchen chopped salad. It was a feast of fresh local goodness: diced tomatoes, arugula, kale, spinach, roasted corn, pearl cous cous, toasted pepitos, fried garbanzo beans, served with buttermilk pesto dressing on the side. The portion was huge. The plating was a lovely innovative rows of ingredients just like a showcase of the rich harvests. According to Ashley, it was a big delicious dish of nature's finest.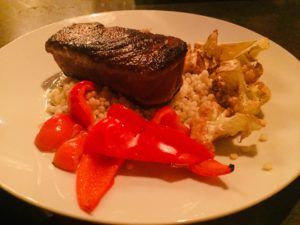 As for me, I had to go with my favorite fish, the tuna. It was a creole crusted Ahi that was lightly seared on each side to a medium, served with ginger Macadamia butter with flash fried cauliflower, red pepper and edamame scallion pearl cous cous. The tuna steak was huge! Where I have seen kitchens serving it as slices, Mittz Kitchen decided to turn it into a steak feast. I was especially fond of the pearl cous cous. They were well cooked to just the right texture. I was surprised by how good the quality of this dish was.
We had a great time dining out at Mittz Kitchen that evening. It was a night of a cozy dinner with upscale food in a good vibe setting. I hope the next time we visit is in the morning of one of the weekends. The brunch menu looks just as mouth watering. Who can resist a good hearty delicious brunch served with the freshest finest local sourced eggs?
#MittzKitchen #KamloopsBC #BCrestaurant #BCtourism #ExploreBC #CobraChomp #KailaSo #MittzKitchenReview