Among some of my favorite things to do on my meal prep day, aka my weekend, is to make a big pot of hearty soup. This vegetable and beef shank soup is one of my favorites during the winter season. A big pot will last for a week when kept in the fridge. It is so easy to make, and great for everyone in the family.
Benefits:
Vitamin K and potassium from carrots
Lycopene from tomatoes
Loads of antioxidants and antibacterial properties from red onions
Fibre, folate and vitamin C in beets
Iron from beef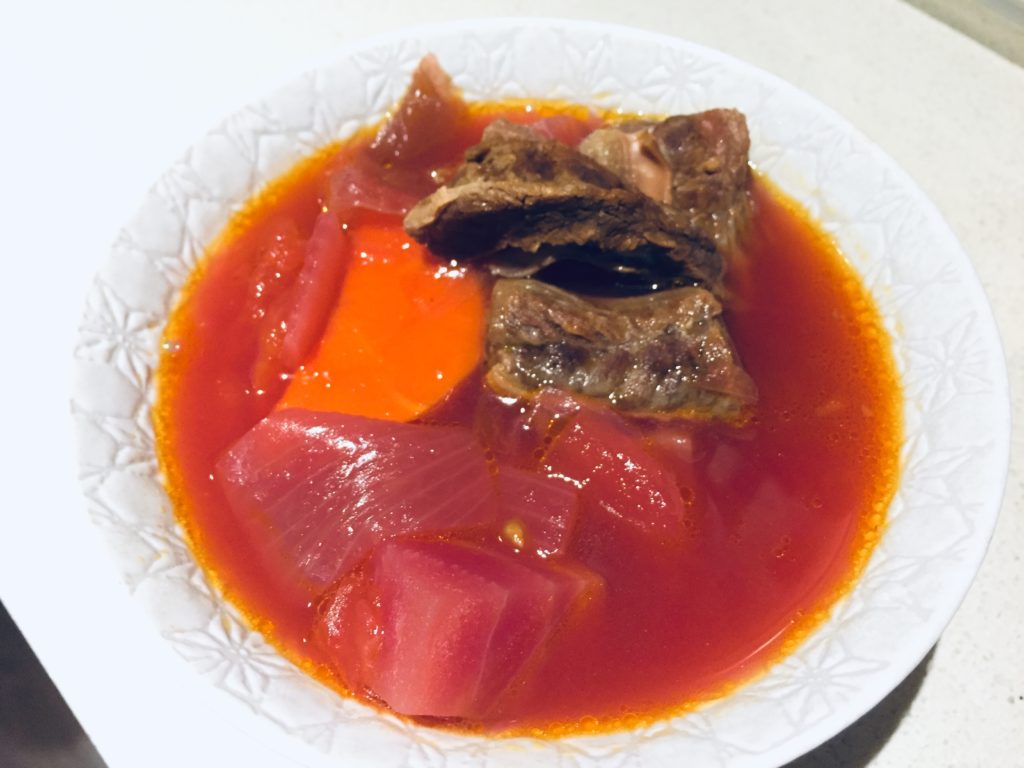 Ingredients: (makes one big pot)
2 to 3 mid size carrots
4 ripe organic tomatoes
1 large red onion
2 to 3 mid size or large beets
1 small ginger
depending on preference, approx. 1 pound of beef shank (omit for vegetarian preference)
Steps: (approx. 2 hours including prep time)
Cut beef shanks into 2 inches pieces. Shave and cut ginger into large slices. Put all ingredients into a big pot of cold water, wait for pot to boil. After water boils for 5 mins, drain and set the beef aside for use later.
Cut all vegetables into chunks.
Take a big pot, fill in cold water and set to boil.
While waiting for water to boil in the big pot, take a frying pan, add oil, stir fry tomatoes. Add a pinch of table sugar to neutralize the sourness.
Add red onions to the tomatoes and stir.
Add carrots and beets to the pan and stir.
When water boils, add beef and all vegetables from the pan to the big pot. Boil on high for 20 mins. Turn to low heat and let boil for 90 mins.