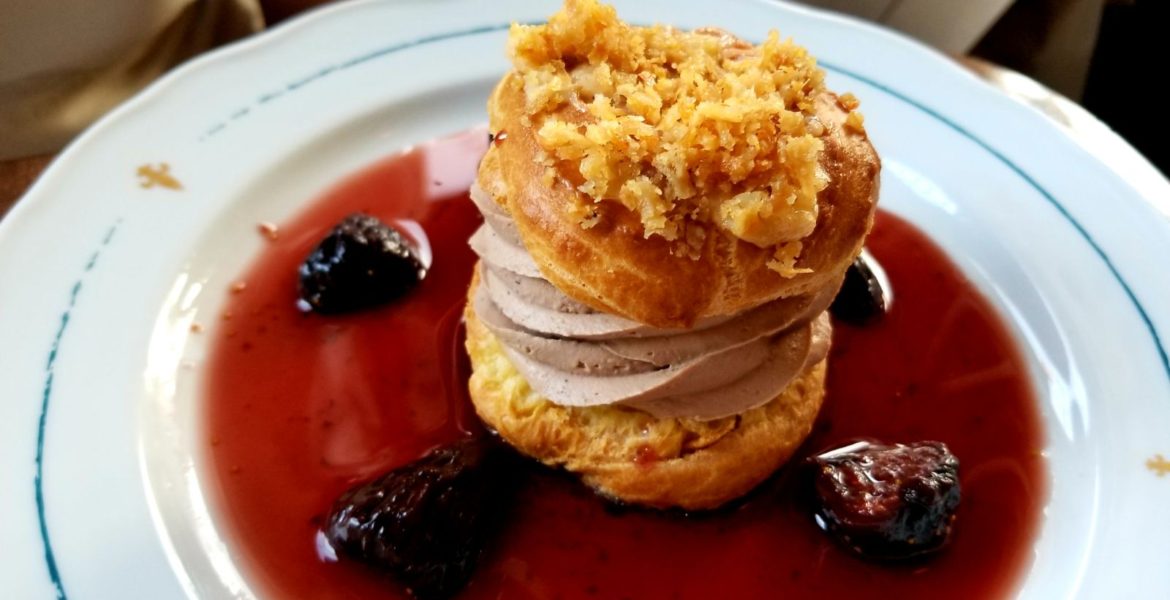 Restaurant Information
Restaurant Name: St. Lawrence Restaurant
Address: 269 Powell Street, Vancouver BC
Phone: 604-620-3800
Website: St.Lawrence Restaurant
About St. Lawrence Restaurant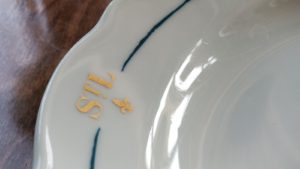 St. Lawrence Restaurant reminds me of my first time falling in love with French cuisine while traveling in Montreal, Quebec. From the vibrant and knowledgeable services, intimate atmosphere, to the ways of how each chef execute their ingredients, their culinary scene captivate my heart and I became a French cuisine believer.
It is such a delight to find that same wonderful experience at St. Lawrence Restaurant in Vancouver. Classic French cuisine creations by Chef JC Poirier and exceptional service by his team of staff captivated Vancouverites and visitors. Winner of Vancouver Magazine Restaurant of the Year 2018, St. Lawrence Restaurant is where true strong dedicated cooking meets upscale elegant luxury to create an inspiring dining experience, one that would make you fall in love.
Appetizers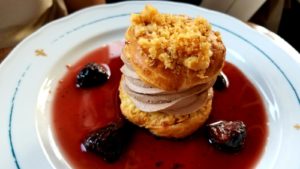 We took a "cupcake" approach to devouring this beautiful Paris-Brest à la mousse de foie gras tower. The smooth foie gras mousse paired with the airy texture of the pastry is a lovely balance of texture to the dish.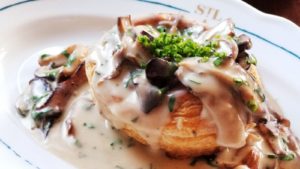 As a lover of all pastries, it was a delight for me to experience a second dish of appetizer that also features pastry. The rich white cream once again is a beautiful balancing texture to the pastry foundation.
Main Course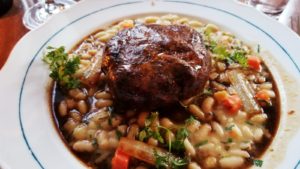 Lamb is quite the interesting meat. Depending on cut and preparation method, it can yield something execeptionally surprising. St. Lawrence Restaurant's braised lamb with
vegetables & Parisian gnocchi is exactly such a curious creation. It has a true rustic robust cooking that is evident in the generous and intense broth sauce in this dish. The meat was both tender yet has a stronger meaty texture, which is unlike what most slow braised lamb meat would be. I love the adorable gnocchi. Little fishes swimming in a sea of broth. That is just want good food does. Create a story as you eat along.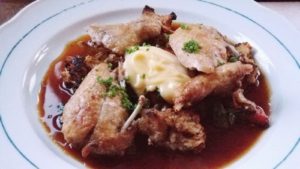 For that particular evening, the special entree feature was a unique dish of quill. Quill is a challenge to cook. It requires careful cooking from start to finish. Any extra heat or time would overcook and destroy the meat. The St. Lawrence quill was beautifully done. The quill meat was so tender and juicy. Together with the sauce and a generous amount of thick mayonnaise, which I believe it was made in house, was a beautiful balance of sweet and salty taste to the dish.
Price: $$$$
Atmosphere: Casually elegant, rustic romantic, open kitchen, a beautifully decorated bar
Menu: French creations that are in good size portions, strong distinguish balance and taste, about 5 to 6 choices for each category, with delightful daily features.
Service: Very friendly and knowledgeable staffs. The dining room is decorated in a soft romantic blue, with detailed decors all around.
Overall Experience: ★★★★★
The minute I walk through that velvet blue curtain, I knew this is exactly what I hope for. It was a lovely evening that had me felt like I traveled to another place, enjoying well-paired wine with passionately prepared dishes. It was everything that encompass this beautiful experience. I certainly look forward to visiting St. Lawrence Restaurant soon.
#StLawrenceRestaurant #cobrachomp #VancouverFrenchRestaurant #Vancouvereats #VancouverFoodie #VancouverRestaurantReview #Restaurantoftheyear2018 #awardwinningrestaurant