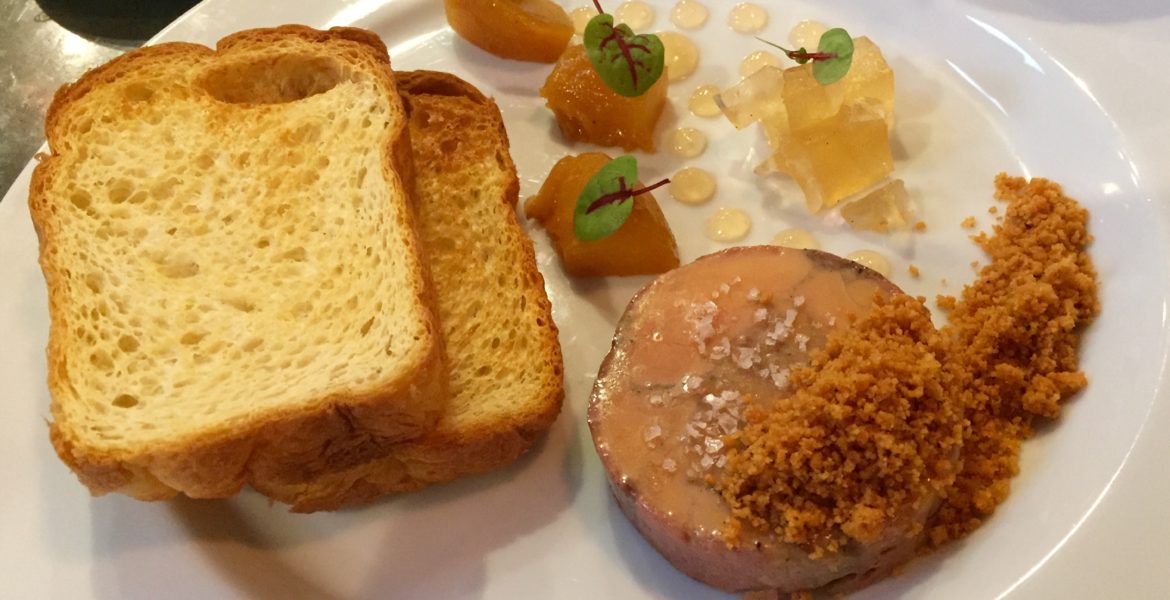 Restaurant: Au Comptoir
Address: 2278 west 4th ave, Vancouver BC.
Phone: 604-569-2278
Website: http://aucomptoir.ca/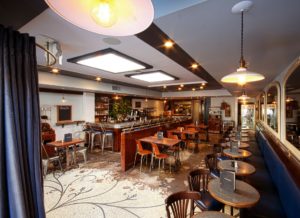 Au Comptoir is one of my favorite special go-to spot for a cozy dine out experience. Located in the friendly Kitsilano neighbourhood, its Parisian atmosphere and Paris-by-way west coast food fare reminds me of my traveling days in Europe.
Au Comptoir — which translates to, "at the counter" — is a popular style of dining in Paris. This is the very concept that French expatriates Maxime Bettili and Julien Aubin inevitably drew inspiration upon when they opened Au Comptoir in 2014. This pretty spot cultivated a loyal following of regular visitors in the process, and earning them gold medals for Best Design and Best Casual French, respectively, at the 2015 and '16 Vancouver Magazine Restaurant Awards.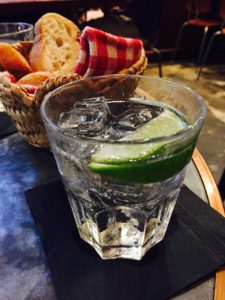 Drinks
Au Comptoir has a fun inspired cocktail selection. Cocktail names such as Paris Sour, Hotel Ritz, Vintage Rhum, all adds to the mood of being in Paris. For those who like dining wines and special spirits, there is a separate drink menu that the staff can offer. For dinner I usually order my favorite: the good old Gin and Tonic.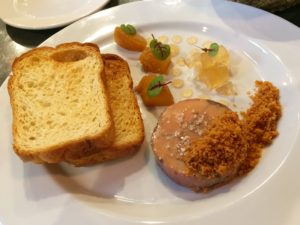 Appetizers
The Bloc de Foie Gras, which is a foie gras torchon, was beautifully plated and authentic. Sprinkled with some sea salt, the silky foie gras melted in the mouth like the creamiest butter. Accompanied with peach slices, wine jelly, crunchy crumbles and thick toast, it is the royalty of hors d'oeuvres.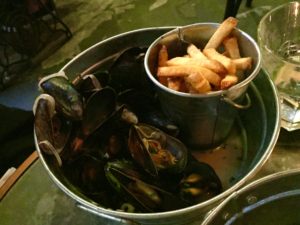 We shared the Wednesday special: Mussels and Fries. It was a generous plate of fatty meaty large mussels that was cooked simply with onion and a semi creamy sauce, allowing the taste of mussels to take center stage. This is a classic comfort dish that is welcomed on the table anytime.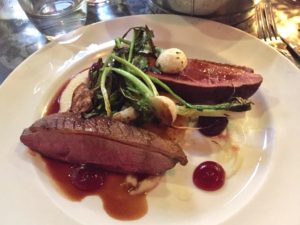 Main Course
For the main course we ordered the duck breast to share. Au Comptoir created a four spiced duck breast, accompanied with cherry, crème soubise, baby turnip and grilled green onion. The duck skin was seared to a somewhat crunchy texture, while the meat was cooked to just the right tenderness. It was a more salty taste dish, which the crème soubise and the cherry jelly were perfect combination to elevate the duck's special flavour.
Overall the dishes were always well presented with attention to detail, have a balanced taste and are in good portion. They have a popular brunch menu that starts early at 8am. Their fresh made coffee comes with an adorable little biscotti. Sometimes it is the little attention to detail that makes an ordinary day great.
Price: $$$
Atmosphere: Romantic and cozy for dinner
Menu: Weekday specials available for food and drinks
Service: Wonderful with a Parisian sense of humour
Overall Experience: ★★★★☆
The only issue for me is reservation, which wasn't available for the weekend at all times. It is a great place for first dates, couple nights out and girls having a great time chatting the night away.
#AuComptoir #VancouverRestaurant #ParisianStylerestaurant #Kitsilano #CobraChomp #MusselsandFries #Brunch #KailaSo #AuComptoirreview #VancouverRestaurantReview