Restaurant Information:
Restaurant Name: Old Vines Restaurant
Address: 3303 Boucherie Rd, Kelowna, BC
Phone: 1 (250) 769-2500
Website: https://www.quailsgate.com/dine/
About Old Vines Restaurant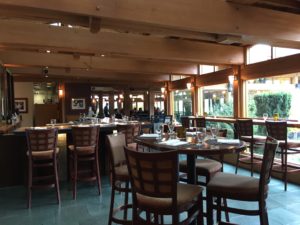 Old Vines Restaurant is in the heart of Kelowna BC, a Canadian city with a growing international traction as the new wine region of the world. Located next to the well-known Quails' Gate Winery, Old Vines is a Canada Top 100 Restaurant with Chef Roger Sleiman at the helm of culinary creations. This classy and elegant restaurant specializes in complementary Pacific Northwest dishes that showcase the freshest farm to table ingredients of the Okanagan region. When it comes to scenery, this place has the perfect panorama view of the on-site vineyards. It is great for guests to enjoy a special dining experience with wine pairings of the renowned renowned Quails' Gate wine conveniently just a couple rows of vines away.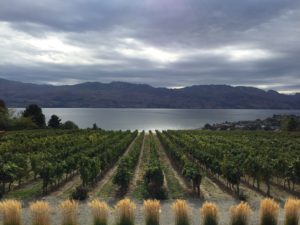 Soup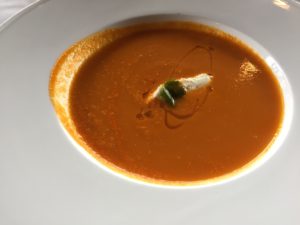 Old Vines Restaurant was having a special lunch menu during the time we visited Kelowna. The lunch set includes a soup, an appetizer and a main course. The Tomato Curry soup was very flavorful. The bisque was smooth and thick. The sweetness of fresh tomato with the saltiness of the buttery taste was well balanced by the curry spice. It was a great appetizer soup with a global flare.
Salad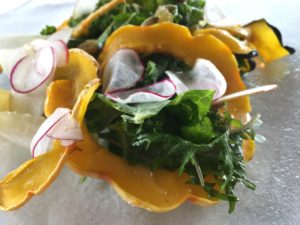 I enjoyed this farm to table Seasonal Butternut Squash and Fresh Greens Salad not only because of how it taste, it was how they focused on the balance of the taste that I adored this dish. This dish is a showcase of the freshest ingredients, including fresh living lettuce, Belgian endive, fresh pears, sliced butternut squash, and sliced radish. With just a house special olive oil mix to bring out the contrast, each ingredient shines proudly of the Okanagan goodness the region is famous for.
Main Course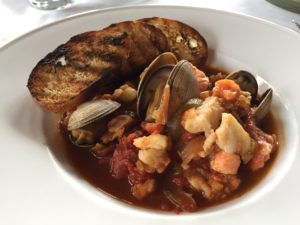 This is a very plentiful dish of Seafood Stew with meaty clams, mussels, cod and salmon fillet marinated in a tomato and wine sauce. It was served with my favorite oven toasted garlic bread. I am delighted of how the appetizer soup's tomato ingredient coordinates well with the main dish's similar tomato sauce. This heart-warming lunch menu set is a story giving tribute to the farmers and growers of the Okanagan region.
Review
Price: $$$$
Atmosphere: Casually elegant with a panoramic view of the on-site vineyards, a northwest relaxing nature resort atmosphere
Menu: Farm to table fresh ingredients showcasing the Okanagan nature goodness.
Service: Professional and friendly staffs who are knowledgeable of the food and wine pairings. Our server offered to re-heat our soup when we carried on doing something at the moment and have let our soup cooled.
Overall Experience: ★★★★★
Over the years, Okanagan and especially the city of Kelowna has been positioning themselves as the culinary destination of British Columbia. Their farm-to-table fresh ingredient approach has attracted talents of all positions. Old Vines Restaurant has put together a great team both front and back end that has earned them a great reputation. Taking a line from Lando from Star Wars: "Everything you heard about me, is true." This is the perfect reply and quote I would give to the fantastic restaurant and their amazing staffs, team of chefs and Chef Sleiman.