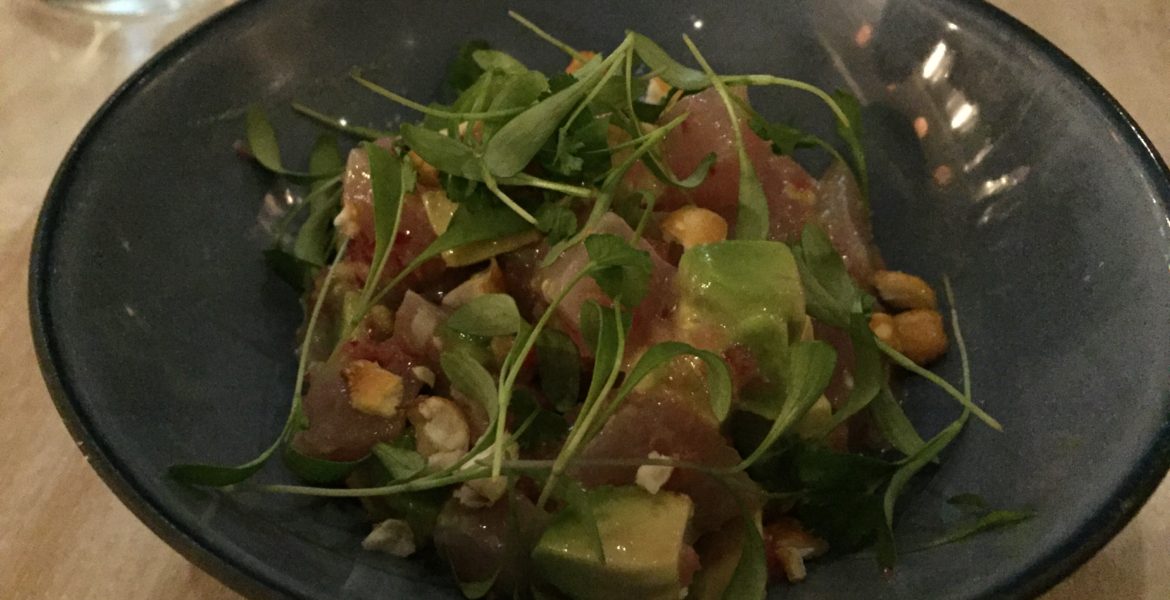 Restaurant Information:
Restaurant Name: Oddfish Restaurant
Address: 1889 West 1st Ave, Vancouver BC
Phone: (604) 564-6330
Website: Oddfish Restaurant
About Oddfish Restaurant
Working with a changing menu is not easy task for restaurant owners and chefs. For Oddfish, however, it is what makes them successful and having customers coming back for more. Opening its door in the trendy Kitsilano Vancouver area, they are literally on the same street with other highly accomplished restaurants such as AnnaLena and Cocao Restaurant. Armed with a team of knowledgeable and friendly staffs, wicked bartenders,  and talented chefs at its core, Oddfish is beating the odds with fresh ingredients and their passion for creating innovative dishes one serving at a time.
Ordering at Oddfish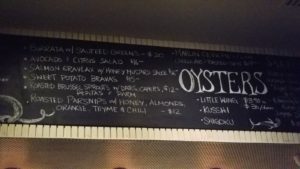 The only menu that matters is actually the chalkboard just above the open kitchen bar. Since the menu changes quite often according to ingredients available, needless to say printing out a new menu everyday just isn't practical. The menu board is divided into sessions of appetizers and bigger share plates. Most dishes are meant to be served as tapas so don't worry if the dishes look small. They really are not once you started to order food and realize that you want almost everything on that menu board. Start with a couple of dishes first and decide later if you like to order more.
What We Ordered
We ordered almost all of our dishes from the chalkboard. Although they do have a standard menu sheet and everything looks delicious on there as well, we just couldn't resist the fresh dishes.
Oysters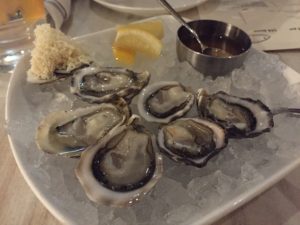 There are a couple of oysters to choose from on the sheet menu as well as the daily menu board. We went with our favorite, the Kusshi. Petite and full of flavor, they are served with a generous amount of horse radish and a house blend cocktail dressing.
Ceviche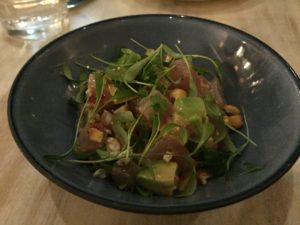 This resembles a Poke dish, with fresh Marlin Ceviche, lime, chilli, avacado and toasted corn. Ceviche is a seafood dish popular in the coastal regions of Latin America and the Caribbean. I am always in awe of chefs working to balance not just the flavor but the texture as well. The toasted corn is a delightful surprise, adding a crunchy texture to the otherwise soft and mushiness of the ceviche dish.
On the Grill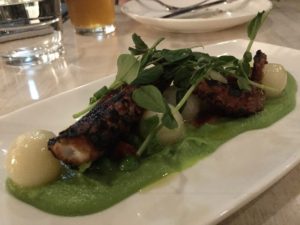 The surprise for the evening was a grilled octopus with mint peas, potato and goat horn chili. The meat is tender and juicy inside while the outside is well grilled to a flavorful texture. The mint paste was a lovely pairing to the octopus, lightening up the general flavor.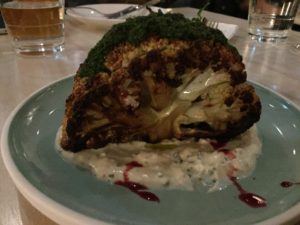 It is nice to see a familiar dish from the daily board. I don't have quite an idea as to what came with this grilled califlower. I just know that it was delicious and we cleared it in minutes it arrived.
Pasta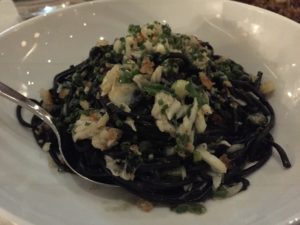 Squid Ink is the magic must try dish in every restaurant that say they have it on their menu. So naturally, we ordered it off the daily menu. One particular fun fact about squid ink is that it's been found to contain a wide range of nutrients and antioxidants. The pasta has a rich flavor, almost a mild sea salty taste while the texture is between soft to mildly firm. Fresh crab meat adds sweetness to the dish, balancing the slightly salty pasta to the chewy texture of the green onions.
After thought
Price: $$$
Atmosphere: Upscale casual, open kitchen and a nicely decorated bar for casual drinks
Menu: There is a staple menu as well as the daily fresh sheet with daily specials based on availability. Mostly emphasize on seafood and harvests.
Service: Nice experienced staffs that made good recommendations
Overall Experience: ★★★★☆
We enjoy going to restaurants that serve some tapas. This allows us to order more variety of food and have a better overall experience of the chefs' creations. I personally love restaurants that took to their heart to strive serving the freshest ingredients according to season. I adore this lovely restaurant and looking forward to the next visit.